When:
March 10, 2019 @ 3:00 pm – 4:00 pm
2019-03-10T15:00:00-07:00
2019-03-10T16:00:00-07:00
Where:
Fresh Flours
6015 Phinney Ave N
Seattle
WA 98103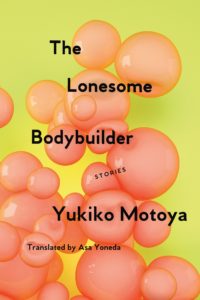 Please join PNWJETAA Book Club for our discussion of The Lonesome Bodybuilder: Stories by Yukiko Motoya – Winner of the Akutagawa and the Kenzaburo Oe Prizes, and A New York Times Book Review Editors' Choice.
"In Yukiko Motoya's delightful new story collection, the familiar becomes unfamiliar . . . Certainly the style will remind readers of the Japanese authors Banana Yoshimoto and Sayaka Murata, but the stories themselves―and the logic, or lack thereof, within their sentences―are reminiscent, at least to this reader, of Joy Williams and Rivka Galchen and George Saunders." ―Weike Wang, The New York Times Book Review
We look forward to seeing you all on March 10 at 3:00pm at Fresh Flours on Phinney Ridge to discuss this English-language debut of one of Japan's most fearlessly inventive young writers.