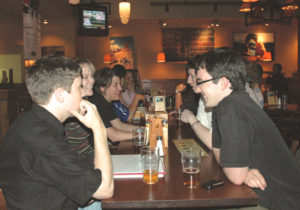 The NEW JETs are all smiles as they talk about what's to come
On June 30th/July 1st, the Consulate had a training session for the new JETs, who will leave in late July. They spent two days in preparation for their move to Japan. Several alumni participated in a panel to give advice to these curious and nervous JET newbies. After the Saturday training, PNW JETAA hosted an informal pizza party followed by a happy hour at the Rock Bottom Brewery downtown. There was a great turnout of new JETs, excited to learn more. Thanks to all the alumni who attended and showed the kids the ropes. Thanks to Heidi and Claire for setting that up!
"Whatever you do…don't feed them after midnight", says John.
Ryan tellz it like it iz to Adam
Rob, former Career Day speaker(left) and Heidi (social chair).
Claire: "Sumimasen… Biiru kudasai!"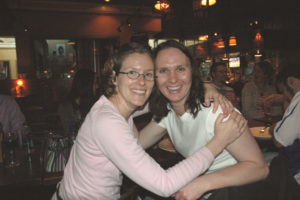 Claire(social chair) and Elizabeth (Newsletter 2006)