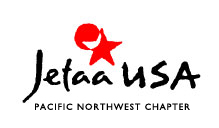 We realized that our previous website was very old and limiting, so we decided to update our website with a nice new blog system called WordPress. It will allow us to upload articles and pictures faster since we have been very active lately. Also, we'd like to perhaps explore some other possibilities like articles or editorials from alumni. This site allows for commenting as well, so it will be great for discussions and brainstorming.
See Events using the Calendar by clicking on dates that are colored. Or, you can see the same events by clicking 'Upcoming Events' under Article Categories.

You can import the JETAA iCalendar by saving the .ics file. (I've never done it but I read you can.) You can do this by clicking on that icon button inbetween the months.

Also, you can check out a comprehensive list of events on the EVENTS LIST page

Sort articles by Article Categories. For example, if you want to see articles with pictures, click the 'pictures' category.

To comment on an article, please register and log in first.

Click on pictures and thumbnails to see the full sized version.

Affiliated links are under BLOG ROLL in the sidebar.

Register today!
And, if you have any suggestions or ideas, please tell us! Thanks. – Shun