Fine Totally Fine: A Fundraiser for Japanese Tsunami Relief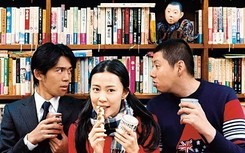 Playing at the Northwest Film Forum
April 2nd at 4:30pm
Director Fujita has made a truly feel good indie comedy with his story of Teruo (Yosi Arakawa), a tree trimmer whose mission in life is to make the scariest haunted house experience in Japan. He enlists the help of his  best friend Hisanobu (Yoshinori Okada), a hospital administrator, in his bone-chilling plans, but Hisanobu is starting to doubt if two guys heading into their 30′s should really be spending their time trying to scare the life out of people. The lives of these two friends takes a  turn when accident prone artist Akari (Yoshino Kimura) comes to work at Hisanobu's hospital. Can wanting to terrify people, growing up and falling in love co-exist in these two slackers' lives?
Paprika
Playing at Grand Illusion Cinema
From April 22nd-28th
Three scientists—Chiba, Tokita and Shima—working at the Foundation for Psychiatric Research have created a miraculous device, called the D.C. Mini, which allows people to record and watch their dreams. However, when the scientists fail to secure the device, it is stolen by a daring thief. The thief proceeds to use the device to enter people's minds when they are awake, distracting them with their own dreams as well as those of others. Of course, as is wont to do when the dream world collides with reality, chaos ensues. Chiba, Tokita and Shima, assisted by a police inspector and a sprite named Paprika, must try to identify the thief as they ward off his attacks on their psyches. Dreams, reality and the movies merge, while characters question the limits of science and the wisdom of Big Brother. From the director of Tokyo Godfathers, Perfect Blue and Paranoia Agent.