SECRET WORLD OF ARRIETY
Widely released – playing at many theaters!
From February 17th on
From the legendary Studio Ghibli (Spirited Away, Ponyo) comes The Secret World of Arrietty, an animated adventure based on Mary Norton's acclaimed children's book series The Borrowers. Arrietty (voice of Bridgit Mendler), a tiny but tenacious 14-year-old, lives with her parents (voices of Will Arnett and Amy Poehler) in the recesses of a suburban garden home, unbeknownst to the homeowner and her housekeeper (voice of Carol Burnett). Like all little people, Arrietty (AIR-ee-ett-ee) remains hidden from view, except during occasional covert ventures beyond the floorboards to "borrow" scrap supplies like sugar cubes from her human hosts. But when 12-year-old Shawn (voice of David Henrie), a human boy who comes to stay in the home, discovers his mysterious housemate one evening, a secret friendship blossoms. If discovered, their relationship could drive Arrietty's family from the home and straight into danger.
JIRO DREAMS OF SUSHI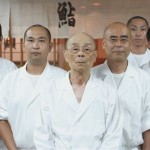 Playing at the Varsity Theatre
From March 30th – April 5th
Jiro Dreams of Sushi is a quiet yet enthralling documentary that chronicles the life of Jiro Ono, the most famous sushi chef in Tokyo. For most of his 85 years, Jiro has been perfecting the art of making sushi. He works from sunrise to well beyond sunset to taste every piece of fish; meticulously train his employees; and carefully mold and finesse the impeccable presentation of each sushi creation. Although his restaurant Sukiyabashi Jiro only seats ten diners, it is a phenomenon in Tokyo that has won the prestigious 3-Star Michelin review, making him the oldest Michelin chef alive. Jiro Dreams of Sushi chronicles Jiro's life as both an unparalleled success in the culinary world, and as a loving yet complicated father of two. Jiro Dreams of Sushi explores the passion required to run and maintain a legendary sushi restaurant, and one son's journey to eventually take his father's place at the head of the culinary dynasty.
BATTLE ROYALE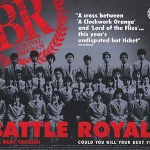 Playing at the Northwest Film Forum
From March 2nd – 30th
AND
Playing at the Egyptian
March 23rd and 24th
An instant classic when it debuted in 2000, and the final complete directorial effort of the legendary Kinji Fukasaku, Battle Royale is a jarring, jaw-dropping look at a future Japan where a group of 42 largely delinquent ninth-graders are chosen through a governmental lottery to kill each other off.  The reason?  To reduce crime and a general lack of respect by the youth in the country. Sound insane?  Not as crazy as the in-your-face, unflinching manner in which Fukasaku toys with taboos and breaks the rules by graphically showing the death sport while also making us care about the many, varied personalities involved.  Teacher Kitano (Takeshi Kitano, in a fun, brutally frank role) oversees the latest bout.  Some kids are psychopaths, while others garner our sympathy.  But just like highlanders, there can ultimately only be one…who will win the Battle Royale?