I WISH
June 3rd at 6:30pm at the Egyptian Theatre
June 6th at 4:00pm at the Egyptian Theatre
Twelve-year-old Koichi lives with his mother and retired grandparents in Kagoshima, in the southern region of Kyushu, Japan; his younger brother, Ryunosuke, lives with their father, a guitarist in a rock band, in the northern city of Hakata. Separated from two of the most important people in his life, Koichi's only wish is for his family to be reunited. So when he learns that a new bullet train line will soon open, linking the two cities, Koichi believes that a miracle will take place the moment these new trains first pass each other at top speed. The brothers devise a plan with a group of their friends to travel to the exact spot, equidistant from Kagoshima and Hakata, where they can witness—and wish upon—this magic moment. Making a dramatic departure from his last film, Aif Doll (SIFF 2009), director Hirokazu Kore-eda fashions a warmhearted tale of sibling devotion that bears some comparison to Danny Boyle's Millions, exploring the simple earnestness of childhood and the imaginative routes in which children seek fulfillment.
ONLY YESTERDAY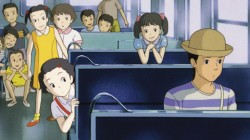 May 19th at 11am at the Renton IKEA Performing Arts Center
May 23rd at 6:30 pm at the Egyptian Theatre
The films of Japanese animation house Studio Ghibli are known for their female heroines, from Princess Mononoke, to Kiki, to Pony. But with Only Yesterday, director Isao Takahata (Grave of the Fireflies) and producer Hayao Miyazaki delve deeper into the emotional experiences of young women than perhaps any animated film before or since. The number-one film in Japan in 1991, it has remained largely unseen in the U.S., where it is the only Studio Ghibli feature not yet released in theaters or on DVD. Realizing that she is at a crossroads in her life, bored 20-something Taeko heads for the countryside. The trip dredges up forgotten childhood memories that unfold in flashback to younger years—the first immature stirrings of romance, the onset of puberty, and the frustrations of math and boys. In lyrical segues between the present and the past, Taeko wonders if she has been true to the dreams of her childhood self. Only Yesterday is classic Ghibli animation, a double period piece that beautifully evokes both the 1960s and 1980s, and the quintessential drama of Japanese school-day nostalgia. Recommended for ages 9+
RENT-A-CAT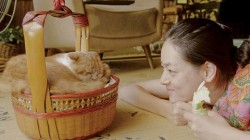 May 30th at 3:30pm at the Harvard Exit Theatre
June 2nd at 3:30pm at the Kirkland Performance Center
June 4th at 9:30pm at the Egyptian Theatre
Sayoko is in an unusual line of work–she rents cats to lonely people looking for companionship. Living alone in a small house full of cats, she spends her days wandering the banks of the river with a cart, a parasol, and a megaphone, looking for prospective clients. And she finds them, too. An old lady would like to buy a pet but fears that it will outlive her. A father wants a friend less critical of him than his children are. And an employee of a car rental company hopes a cat will ease his loneliness. But ever since her grandmother's death, Sayoko is lonely too. Until one day, when a mysterious young man from her past appears and follows her, and her feline friends, home. This quirky, gentle comedy by Japanese cult director Naoko Ogigami (Megane) celebrates self-discovery through unconventional methods and explores the importance of finding companionship, both human and otherwise.