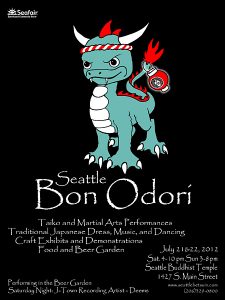 It's time to dig out your yukata, happi, or jinbei and get ready for dancing at the Bon Odori!
This year the Bon Odori will be on Saturday, July 21st from 4:00-10:00pm and Sunday, July 22nd from 3:00-8:00pm.  On Saturday we'll be taking over part of the beer garden for JET alum, new JETs and anyone who wants to join.
When: Saturday, July 21st starting at 5:00pm
Where: Seattle Betsuin Buddhist Temple
1427 South Main Street
Seattle, WA 98144
Google map: http://goo.gl/maps/TAcR
***Look for our social coordinator, Ian, in the beer garden behind the main temple area. We will be in the beer garden for about an hour before hitting the main dancing area.
RSVP: Please email social@pnwjetaa.org by July 18th if you are planning on coming
There will also be some dance practice sessions at Betsuin if you are interested in learning the moves beforehand.  The lessons will be from 7:30-9:00pm on July 16-17 from 7:30 to 9 pm at the temple.