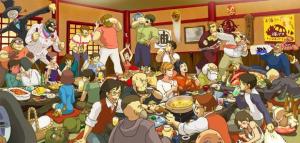 Lets say goodnight to 2014 with the annual PNWJETAA Bonenkai! We're excited to be in the International District in Seattle again, for what should be a cold, awesome night!Location: Red Lantern, 520 S Jackson Street, Seattle

Date: December 12th (Friday)

Time: 6:30PM – 8:30PM

Cost: $25 per person

Why: Because without a PNWJETAA Bonenkai, how could 2014 ever end?

Come celebrate with food, drink, and a very merry bunch of JETAA Alumni! Space is limited this year due to location size, so pick up your tickets early! This year, we have a fully-vegetarian option for dinner, as well as a raffle of awesome things, and a pub quiz (with prizes)!

Absolutely in a tizzy about Bonenkai and excited to everyone there!

Buy your Bonenkai tickets here!