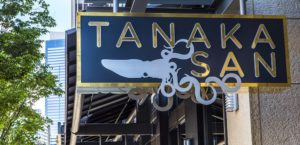 Who: PNW JET alumni and friends 
When: Thursday, 2/1 at 7:30pm – 9:00pm
Where: TanakaSan – 2121 6th Ave, Seattle (Via 6)
Questions? Please email Sophie (sophie.mecham@gmail.com)
Join us for a fresh edition of Nomikai + Networking at TanakaSan. At this month's event, we will be joined by a representative of Japan-America Society of Washington (JASSW), so come and take advantage of this opportunity to grow your network while sipping a sake slushy!
This event will follow our monthly council meeting at Westlake Tower, so please feel free to join the meeting for insight on our chapter's upcoming happenings. We will head down the street to TanakaSan at 7pm!
TanakaSan's booze menu is broadly Asian, with several varieties of the Japanese spirit shochu and its Korean variant soju, Asian lagers and Japanese whiskies, cocktails mixed with Eastern flavors like five-spice and ginger and green-tea ice cubes, and chuhai: the fruity, fizzy Japanese cocktails that TanakaSan brings to the table in the form of playful mix-it-yourself kits with cold-pressed juices. 
Non-alcoholic options include fresh fruit and vegetable juice combos, smoothies, coffees (including long-steeped cold brew and slow-dripped Kyoto coffees), mocktails, and a full slate of Remedy teas.