President
Adam Ledyard lived in Takaoka-shi, Toyama-ken for two years as an ALT (2005-2007). He hosted a weekly radio show in Toyama where he and a JET colleague discussed their experiences in Japan, and shared insight on English idioms.
After returning from JET, Adam continues to seek out experiences that challenge him to learn and grow. As a computational linguist, he uses natural language understanding to enhance speech recognition software. Before that, he went on working holiday in New Zealand, where he taught ESL, honed his bartending skills, and lived out of a station wagon for three months. He started the Shikoku pilgrimage (1-27 in Tokushima), and looks forward to continuing in Kochi next year. He is currently building an outrigger canoe to improve his woodworking skills.
Key initiatives for JETAA include updating the bylaws to pursue nonprofit status and building a more robust membership database so we can better support our alumni outside of the Seattle area with targeted outreach events.
If Adam could choose his superpower, it would be shapeshifting, but for very practical reasons—he could blend in wherever he traveled, and all clothing would fit exactly the way he wants. Given the opportunity to time travel, he would go to the future so he could take a space tour and grab a beer on the moon.
Vice President
This is Michelle Kato's second year as the Vice President of PNWJETAA, and she is #nailingit. From rep'ing the Pacific Northwest at JETAAUSA's National Conference, to spearheading remote outreach activities in the region (hi Montana!), to designing our new logo and mascot, she works tirelessly to support and promote JET and our JETAA chapter.
Originally from Wailua, Kauai, she first visited Japan in May 2009 when she did a work/study program in Yamagata Prefecture. Her continued interest in Japan brought her back in 2013 as a JET CIR in Kagoshima Prefecture. During her three years on JET, she took trips to Yakushima, Tanegashima, and Amami Oshima — some of the many islands of the Ryukyu Archipelago south of Japan. These near-tropical islands have a special place in her heart due to their resemblance in nature and culture to Hawaii; but despite her history and love for the tropics, her favorite time of year in Japan is actually the transition from fall into winter (satsumaimo, anyone?).
Michelle recently began a new position at the Federal Emergency Management Agency (FEMA), the first step toward what she hopes will be a lifelong career in emergency management and disaster relief. In her free time, she enjoys photography, gardening, and crocheting ugly/cute socks for her nieces and nephews. Check out her work on the official PNWJETAA Instagram @pnwjetaa!
Treasurer
Our esteemed Treasurer, Zack Williams, hails from Bellingham originally, and studied international business at university before his tenure on JET. He was placed in Nagahama, Shiga from 2007 to 2010, and while there, he especially enjoyed learning about the community that his students were from, as well as the experiences that made them who they are today. His favorite season in Japan is Fall because it's still warm enough to be out late, but not so hot that he doesn't want to be. Zack has been back Stateside for a good long while now, but he can never stay away from Japan for very long.
He first visited Japan on February 7th, 1999, his most recent visit was in October of 2018, and he has another trip scheduled for May of 2019! He is currently an International Student Advisor at Green River College, and he is proud to say that he put 10,000 miles on his bicycle last year. He's also started his own home rental business since returning to Seattle. His favorite JETAA event is the summer picnic because it's a relaxed, laid back event, and his favorite Japanese foods are sushi and ramen, both of which are distressingly difficult to eat at a picnic.
In another life, his dream job would either be I.T. security, or being a tour guide on a bicycle tour…for no one but himself! Zack's goal for this year is to successfully collect all the receipts that the PNWJETAA council generates, which is a lot.
Secretary
Samantha, or Sam, Corpuz is currently serving her second year as the Secretary of the PNWJETAA. Sam is originally from Port Coquitlam, B.C. and put her Communications degree to good use as an ALT from 2012 through 2016 in Gunma Prefecture. After four memorable years in Japan, Sam traded her view of Mt. Myōgi for a view of Mt. Rainier in Seattle, WA and took up a position as Assistant Director to the Kobe Trade Information Office.
Sam oft reminisces the time climbed Mt. Fuji (both times, especially the second time when the hike aligned with the Perseids meteor shower in August), how autumn ushered in bright orange kaki persimmons, onsen hot spring crowds, and yakiimo sweat potato trucks, but since joining the PNWJETAA council, she revamped the newsletter, developed overall communications, and organized a ski trip in Vancouver, B.C for Pacific Northwest and B.C JET alumni -her favorite JETAA event to date! She is also looking forward to someday work in the wine industry on marketing and communications, encouraging conscientious consumership.
On her spare time, Sam channels her inner sea otter (patronus), showing up to events to the eerie "Lux Aterna" theme song from Requiem for a Dream, and picks the brains of JETs with talk of time travel into the future — but not too far into the future. Imagine only two years into the future; it's far enough into the future to have get you wondering but not too far to make you feel sad about what you may have missed. If this sea otter could only eat one Japanese dish for every meal for the rest of her life, she would feed on kimichi natto rice.
Social Coordinator
Meet PNWJETAA's new Social Coordinator, Dawn Marie Wyruchowski (ALT — Yasugi-shi, Shimane-ken,
2015–18). She's a freelance writer on the side and enjoys inspiring kids and those young at heart and enjoys trekking as a cultural tour guide. Homegrown in the PNW she is looking forward to exploring new venues and expanding the variety of social activities for our members to enjoy! With a love for swimming and a win at the International Rowing Matsue Regatta under her belt, maybe she'll have a water-related adventure in store for PNWJETAA this year?!?
Some of Dawn's favorite Japan memories included hosting some of her teacher friends from America and introducing them to Sports Day at her school and making her students spew and laugh at lunch with her funny elephant noises.
Join other alumni to share stories, make new connections, discuss your favorite anime like Yuri on Ice, Ore Monogatari or Non Non Biyori (Dawn's personal recommendations) or ponder which Japanese meal you would eat for the rest of your life if you only had one choice and what flavor you would be if you were ice cream? Without missing a beat and with absolutely no hesitation, Dawn's answers are: "Nabe and Wild Mountain Huckleberry respectively!" Find out what else makes our new Social Coordinator and your fellow PNWJETAA members tick by joining our monthly socials! Fun times lie ahead and feel free to share any suggestions you may have with Dawn!
Transitions Coordinator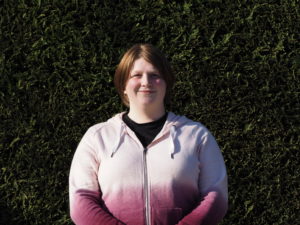 JET alum Jessica Record is no rookie to JETAA. She has held the position as Transitions Coordinator for the past two years. She is a dedicated individual that seeks to help returnees find a path that will allow them to utilize the skills and experience they've learned abroad. Her main goal this year on the council is to recruit prospective JET's and help them cultivate a love for teaching and a love towards the Japanese culture through participating in the JET program.
Jessica double majored in Japanese Studies & Sociology at the University of Washington. Soon after graduation she was accepted to the JET program and was placed in the beautiful prefecture of Hyogo (2015-2016). Though she was only there for a year, she's made many fond memories. Her most memorable was participating in Kendo club with her students. With hard work and dedication, and the encouragement from her students she was able to do 1 years' worth of training into just 3 months. She could very much open up her own dojo!
Since returning from the JET program, Jessica has worked at the Hyogo Business & Cultural Center in Seattle and now currently works at an exotic animal hospital in her hometown of Bothell. She has the joy of working with wolves, raptors, snakes and all sorts of invertebrates. As you can tell she has love for animals and if you ever have a sit down with her you would find that she loves teaching more than anything. There is always something new to learn when having a conversation with her.
Media Coordinator
Janice Laureano is our media relations coordinator. Janice was placed in Niigata from 2013-2017, and before Japan, Janice moved a lot until she settled in Seattle and attended the University of Washington, majoring in Global Studies. When she is not updating the Pacific Northwest JET Alumni Association's website, Janice continues her greatest achievement since returning from JET: working at Toray, a Japanese company, since 2017. Her company gave Janice the opportunity to return to Japan this February for a business trip but also to see her past students graduate.
Janice recalls her best memory from being on JET was during an AJET Charity Musical. She and other ALTs went to every city in Niigata to practice during the winter! ALTs made their school gyms available for practice. Janice remembers thinking: "What am I doing here in the winter, dancing and singing with other foreigners?" But Janice enjoyed singing enough outside of the charity event that at karaoke her go to song is Celine Dion's "It's All Coming Back to Me Now." When she wasn't eating at Lawson's, her favorite Japanese food is chawanmushi, which she could eat for every meal for the rest of her life.
Janice's favorite memory of the Pacific Northwest JET Alumni Association so far was her first casual meeting in December when everyone pulled out snacks and drinks, and despite thinking: "What is this?" she had fun and decided she wanted to join the council and help us improve. Although her patronus is a sloth, Janice hopes her work will lead our organization to be more visible to other Japanese Organizations as well as new JETs.
Compliance Coordinator
Jeremy Odden is the PNWJETAA Compliance Coordinator. He was in Kyotango City, Kyoto from 2015 through 2018. Jeremy left an impact on his school when he got the kimoda meshi canceled because he was just too darn scary the previous year (running around in ghostly fabric and spitting blood). Jeremy studied Elementary Education, and although he still works as an Educator his main occupation is as a Stage Tech for the greater Seattle area. He hasn't been back to Japan since he returned in August 2018, but he said he would love to go back to Japan for a spring visit where he can ride a bike and see the sakura bloom. Jeremy has been active with PNWJETAA and he attended many events, but he looks forward to the PNWJETAA/JETAABC coordinated VANSKI event the most. If we made a biopic about his life it would be titled "Make up your damn mind!" And the tagline would be "Yes, I can go my whole life without picking a career." Jeremy's goal for this year is to get PNWJETAA to non-profit status. Thank you Jeremy!
Advisor & Membership Coordinator
Lynn Miyauchi (Fukui, Obama-shi) works for the Consulate General of Japan and serves on PNWJETAA's Advisory Board. In her roles, Lynn has had the opportunity and privilege of helping open doors to Japan for over 1400 JETs, who have made and will hopefully continue to make significant and positive impacts on Japan-U.S. relations.
Lynn treasures her memories from Obama-shi, including earning her kyudo shodan, being a part of the visual majority for the first time, and the singular joy of seeing the light bulb of understanding brighten her students' eyes. A favorite JETAA experience of Lynn's is attending the 30th Anniversary reunion in Washington D.C. She loved seeing the extent of the JET community and hearing all the anecdotes about how JET life has changed. This year, Lynn hopes to foster new member and community connections, get PNWJETAA membership up to date, and gather a big team for the 2019 Walk for Rice. If she could instigate any new trend, Lynn would spark a revival of wearing Haori and using furoshiki. Lynn's go-to happy space is playing with her puppy, Yuki. If only Yuki could join her all day at work!