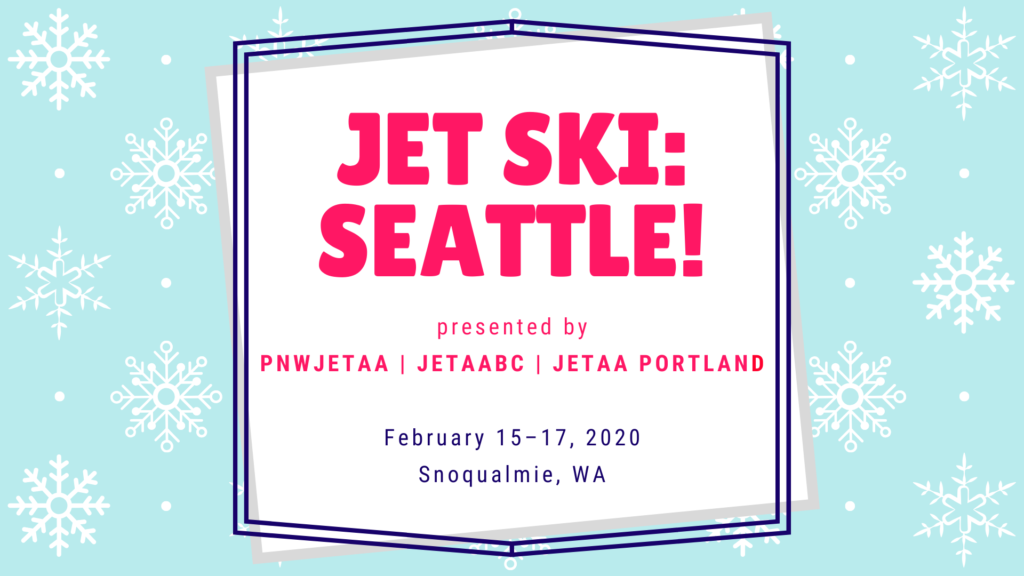 PNWJETAA & JETAABC are excited to announce our second annual ski and snowboard trip along with our Pacific Northwest neighbors, JETAA Portland!
All three JETAA chapters will be descending upon the Seattle area February 15–17, 2020! Hit the slopes with your fellow JET alumni for a full day of winter sports at the Summit at Snoqualmie Feb 16.
Not into winter sports? Not a problem! Join us in the evening for dinner, drinks, and all-around merrymaking in Seattle (expect karaoke). Or, explore the city with some of the locals on Feb 15th (Saturday) or the holiday Monday (Feb 17th) to get the most out of your visit!
Be one of the first 20 participants to register before Jan 31st and you'll receive $30 off at Snoqualmie, courtesy of your host JETAA chapters! First come, first serve, so don't miss out!
Registration is closed at this time. If you have any questions, please contact secretary@pnwjetaa.org
---
---
Schedule
Think of this as a Choose Your Own Adventure — come when you want, leave when you have to. It's up to you! Here's where we'll be for the weekend of Feb. 15:
February 15th
All Day  Arrive in the Seattle Area
2:00PM  Sightseeing in Seattle's International District
5:30PM  Welcome Dinner & Happy Hour at Pike Brewing Co.
9:00PM  Nijikai at Moonwalk Karaoke
February 16th
7:45AM  Meet at Summit Central Lodge
All Day  Winter activities at the Summit at Snoqualmie
6:00PM  Aprés-Ski Dinner at Coco Izakaya
February 17th
All Day  Depart from Seattle
10:00AM  Sightseeing at Discovery Park
---
Important Information
Only one registration form is required per family/group. If eligible, each participant registered on one form is able to receive the Early Bird Discount ($30 US, see below for details).
Final deadline to register for winter activities at Snoqualmie is 2/9. You can still register for other events (such as welcome dinner, aprés-ski happy hour, or sightseeing) until 2/14.
Payment for winter activities at Snoqualmie is required via Brown Paper Tickets after 2/1 and NO LATER than 2/10. Any registrations that remain unpaid after the payment deadline will automatically be cancelled and any eligibility for Early Bird discount or Group Rate will be forfeited. You will receive an email with links and instructions for payment after the Early Bird period ends on 1/31 (also see Group Rates below). A small service fee will be automatically charged by Brown Paper Tickets on your purchase (the organizers have no control over this). Payment for other events during JET Ski (dinner, happy hour, or sightseeing) is not required beforehand.
Early Bird discount of $30 for winter activities at Snoqualmie will be administered on a first-come, first-served basis to participants who have registered before 1/31. Limited to the first 20 registered participants. Participants who register for events other than winter activities at Snoqualmie (dinner, happy hour, or sightseeing) are not eligible for this discount.
Group Rates for winter activities at Snoqualmie will be available to all participants (regardless of Early Bird discount) if a minimum of 15 participants is met. Organizers will contact all participants on 2/1 if this minimum is met by 1/31, and the payment portal on Brown Paper Tickets will only display the group rate pricing for all items. If this minimum is met after 2/1, but before 2/10 (the payment deadline), participants will need to pay the full price on Brown Paper Tickets, and organizers will reimburse the difference at the event.
Carpooling to and around the Seattle area, as well as tatami sharing (couch surfing) will be coordinated by the organizers if you wish. Please follow the instructions in the registration form.