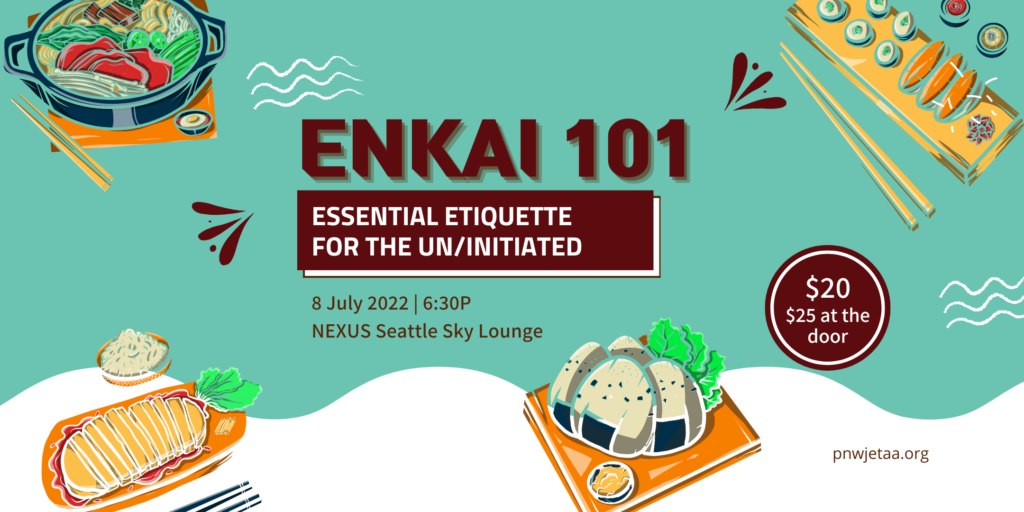 Whether this will be your first or your thirtieth enkai, PNWJETAA invites you to join us for one of our favorite new JET send-off traditions: Enkai 101! Learn and practice your enkai etiquette with your fellow JETs and alumni in the heart of downtown Seattle—complete with sweeping views of the city, Puget Sound, Lake Union, and Mount Rainier.
The essentials
When: Friday, July 8, 2022, 6:30–8pm (nijikai karaoke to follow)
Where: NEXUS Seattle Sky Lounge, 1808 Minor Ave, Seattle, WA 98101 (map)
Who: Departing JET participants and alumni
How much: $20 online, $25 at the door. Admission includes all food and non-alcoholic drinks. Alcoholic drink tickets available for purchase (2 tickets for $5).
Other details
Dress code: Smart casual
Parking: Street parking and paid garages nearby. More parking @ Amazon Doppler Garage (free parking nights and weekends; 12-minute walk from the venue).
Check-in at concierge: When you arrive at Nexus please give your name to the front desk and let them know you are attending an event in the Sky Lounge. They will send you up on the elevator.
Precautions: We ask that you wear a mask when not eating or drinking. If you arrive without a mask, one will be provided to you. Please stay home if you feel unwell or consider yourself at high risk of serious infection.
Purchase tickets