All PNWJETAA profiles will be hosted here to our PNW J-Link page, where they will remain in our permanent PNW J-Link Directory, as long as you wish.
Profiles are listed in alphabetical order:
Lynn

Miyauchi

,

(She/Her)
ALT, Obama, Fukui
Consulate- General of Japan, Seattle
Biography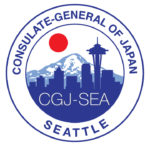 A firm believer in the positive impact of grassroots exchange, she continues to support citizen diplomacy in her current role as the Senior Specialist for Cultural Affairs, Sister Cities and Public Outreach at the Consulate-General of Japan in Seattle. She is responsible for creating cultural and educational programing content and has a special interest in Japanese armor and furoshiki tying techniques.
Iaido is the art of drawing, cutting from the draw and re-sheathing a Japanese long sword. Through a series of stylized scenarios (kata) originating from techniques used by the Samurai, students of Iaido train their bodies and minds by learning extremely precise maneuvers, while simultaneously increasing concentration and focus. Lynn studies Iaido at the Musokai Dojo, which is a school of Japanese Swordsmanship in the style and tradition of Muso Shinden-ryu.